Discover and explore this remarkable eco-friendly urban retreat in Cleveland's Old Brooklyn neighborhood. Visit the gardens, beehives and more at one of our oldest, largest, and most productive garden sites. A Cleveland Landmark. A treasure awaiting your discovery!
FREE & FAMILY FRIENDLY
-Tours
-Refreshments
-Salsa tastings
-Demonstrations
-Kids crafts
Find our historic 5-acre site behind Ben Franklin Elementary School on Spring Road between Broadview Rd and the Jennings Fwy (176). Ample parking.
BFCG is a program of the Old Brooklyn Community Development Corp. Each year gardeners donate as much as or more than 5K pounds of fresh produce to local hunger centers.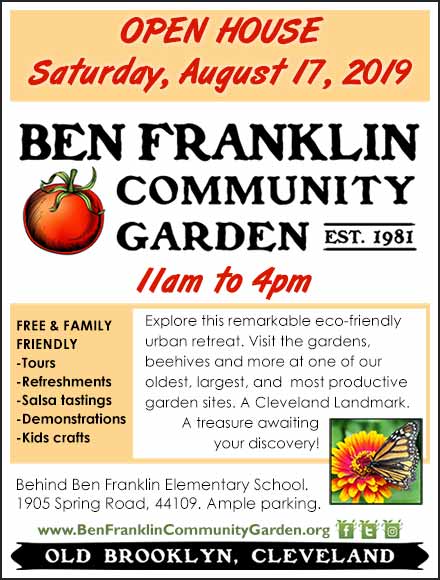 WHEN
August 17, 2019 at 11:00pm - August 18, 2019
WHERE
Ben Franklin Community Garden
1905 Spring Rd
Behind Ben Franklin Elementary School
Cleveland, OH 44109
United States
Google map and directions
CONTACT
M. E. Stasek · · 216-446-5155
---